Buy Seven Sacred Attitudes®
Simple yet profound: A "must-read" for your journey of personal growth and development.
Your life is a quest...to bring your unique strengths into the world, to live more fully, to achieve your dreams. If you're on a path of personal growth and development, here's the book no "traveler" should be without: Seven Sacred Attitudes®: How to Live in the Richness of the Moment.
With compelling stories and thought-provoking questions, author Erica Ross-Krieger encourages you to open your heart and explore your attitudes toward life. Learning the process to cultivate these Sacred Attitudes will help you lead a more joyful, meaningful life: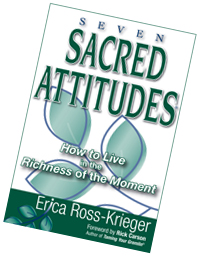 Use Inner Wisdom
Accept What's So
Go Slow
Do Less
Show Up
Trust the Process
Be With the Questions
Each essay, fable, and story in Seven Sacred Attitudes illustrates one of the Sacred Attitudes, revealing that every step, every breath, along life's path presents an opportunity to deepen your learning. Questions help you examine—and cultivate—energy-giving attitudes for personal growth and a rewarding life.
Seven Sacred Attitudes: $12.95, e-book edition
Special Note: Seven Sacred Attitudes features a special foreword written by Rick Carson, renowned author of Taming Your Gremlin® and founder of the Gremlin Taming Institute™. (Erica Ross-Krieger is a graduate of Carson's Taming Your Gremlin One-Year Training Program.)